Fourth Grade Teacher | Choir Director
Courses Taught:
English/Language Arts 4
Children's Choir 3rd - 6th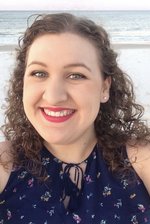 In December of 2018, I graduated from Auburn University at Montgomery with my degree in Childhood Education.
I completed my student internship in the fall of 2018 at Redland in third grade English Language Arts, and I was a long-term substitute in multiple classes during the following spring semester. I taught fourth grade at Redland last year, so I am excited to begin my second year teaching fourth grade.
I am delighted to be a teacher at Redland Elementary School! During my time at Redland as both an intern and a substitute, I fell in love with this school, and it feels like home!
I have enjoyed sharing my love of music with the sweet 3rd - 6th graders who have joined the children's choir.
In my free time, I love to bake, read, sing, and spend time with my family and friends. I also love watching movies - especially if they are Marvel or Star Wars. I am very active at my church, Capitol Heights Baptist, where I sing in the choir and help with Vacation Bible School. I look forward to getting to know all my students and helping them learn.